Come kick off a great Thanksgiving with an
invigorating fun run or walk in the park--before
the parades, football games, and feasting commence!

Thanksgiving - November 27, 2014
Polo Field, GG Park - San FranTurkey






AS OF 10/31/2014, THE CAVITY OF THE TURKEY
IS FILLED TO 93% CAPACITY. REGISTRATION IS
EXPECTED TO CLOSE IN THE NEXT WEEK OR SO!
THERE WILL BE NO RACE DAY ENTRIES!

REGISTRATION ALERT!

The San Francisco Turkey Trot™ is **NOT** affiliated
with any Groupons and will NOT accept any
registrations acquired via Groupon.

Registration for the 12th annual SF Turkey Trot™
in Golden Gate Park is available HERE only.





San Francisco Turkey Trot Race Menu
| | | |
| --- | --- | --- |
| Race Entree | Servings | Energy Cost |
| Turkey Trail Trot (RUN) | 5 Miles | 600 calories |
| Pilgrim Promenade (WALK) | 3 Miles | 300 calories |
| Kids Gobbler Chase | 100 Meters | 8 calories |

Feasting Schedule


8:00 AM
Kids Gobbler Chase
8:40 AM

Turkey Trail Trot and
Pilgrim Promenade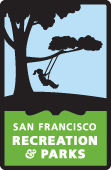 For fun Trot updates, get social with The Turkey!
Just click below to join his social hangouts!









2013 TURKEY TROT HIGHLIGHTS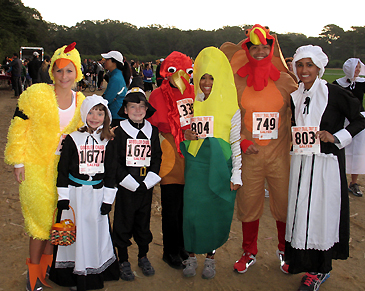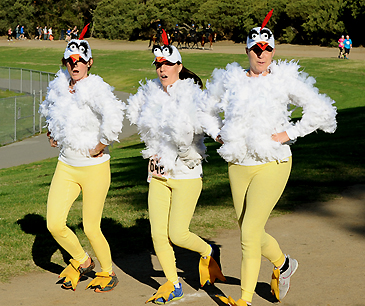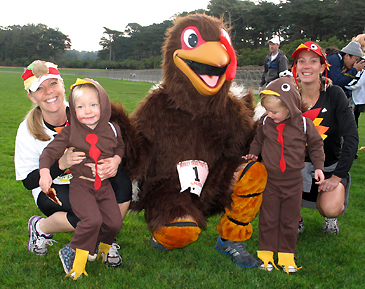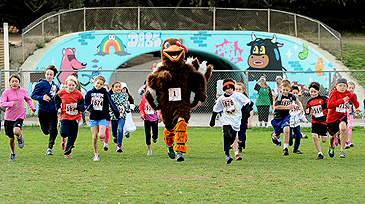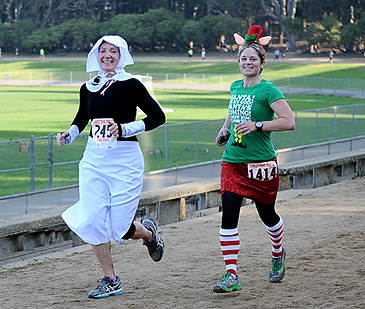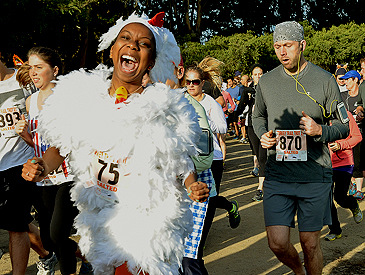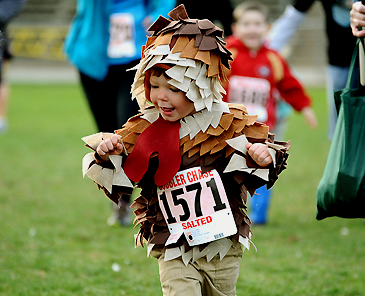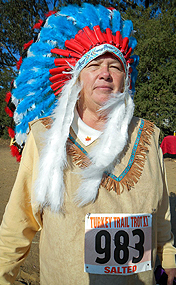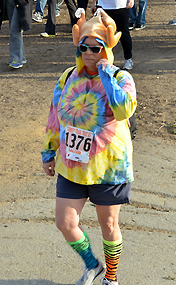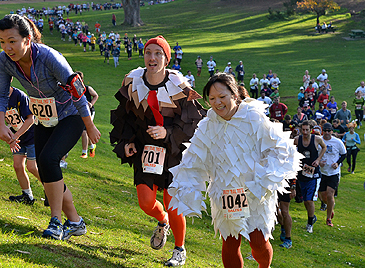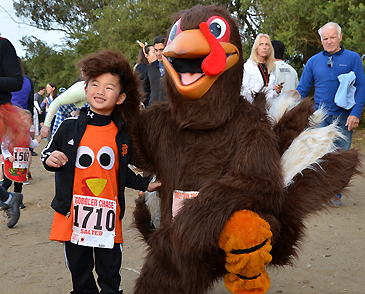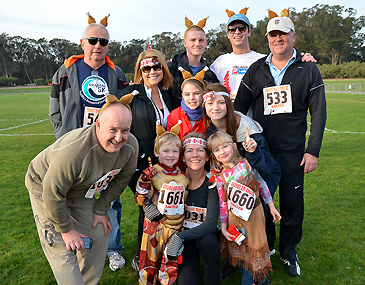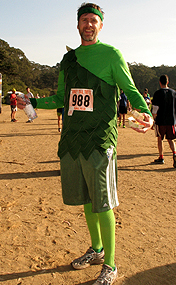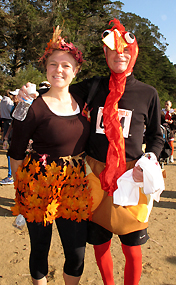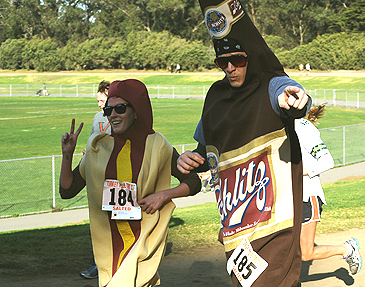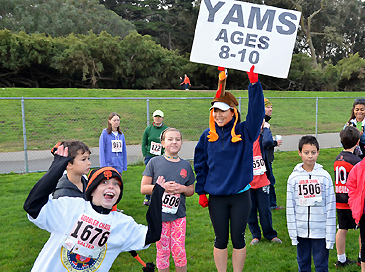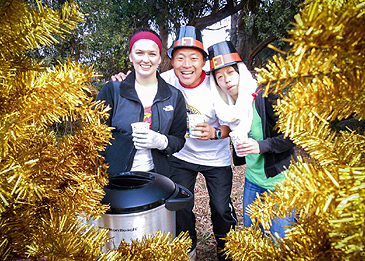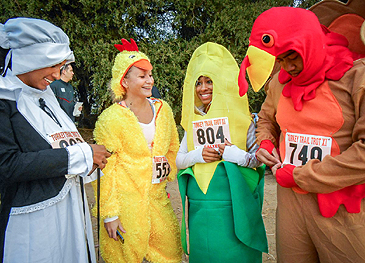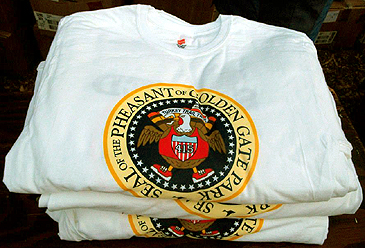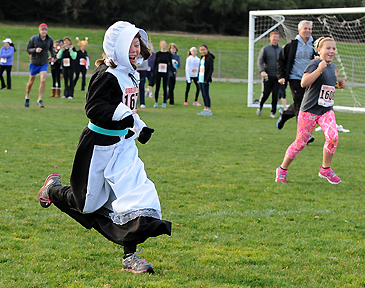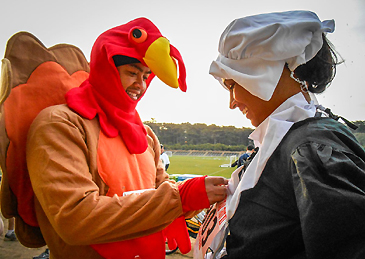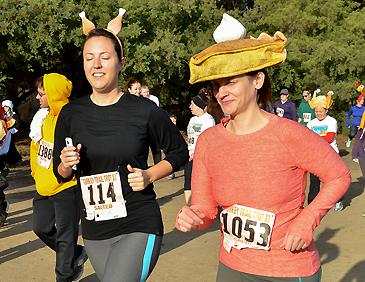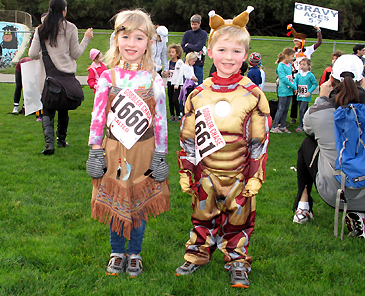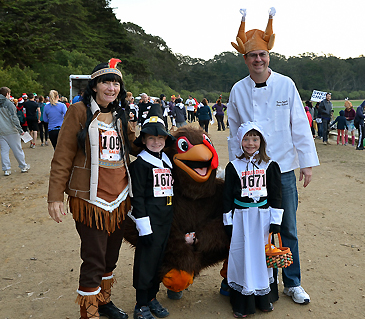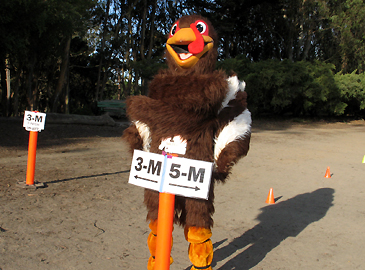 AND THE OSCAR GOES TO...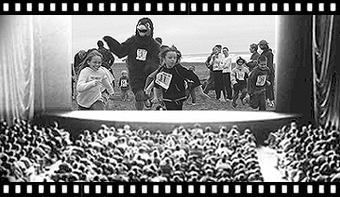 1620 Academy Award winning Turkey Trail Trot

Best Leading Poultry, Best Supporting Male Pilgrim,
Best Supporting Female Indian, Best Choreography,
Best Costumes. Rated PG-99. Read Race Reviews







PILGRIMS AT SEAL ROCKS?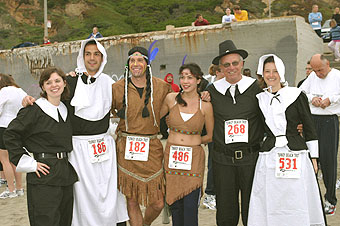 Revisionist historians in San Francisco believe that the
Pilgrims did not, in fact, land at Plymouth Rock. Evidence
leads them to assert that the visitors from England landed
instead at Seal Rocks, off the shores of SF's Ocean Beach.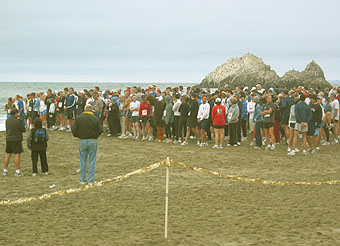 Runners ponder, "Did the Pilgrims actually land at Seal Rocks?"

Whether they landed at Plymouth Rock or Seal Rocks,
the Turkey Trail Trot is dedicated to these Pilgrims,
to the friendly Natives they encountered, and to all
who enjoy good eats and trotting. Happy Holidays!

Be hungry. Be very hungry.



TROT SHIRTS PAST